Tennessee - The Day 8
Sakurai's neck pain is almost to the limit but he endures. (photo at left shows his expression). But the crew fights back.

Therefore we modified the handlebars. Turning the handle upside down allows him to raise his body and relieve some neck pain..
Alongside the time station as twilight approaches, the crew's mechanic changes the handle fitting with special attention to detail and Kaname's comfort.

In this race, we had very few problems with the bicycle mechanisms. Of course we had some preparation, but we could not enjoy this great result without our mechanic's fine job.
---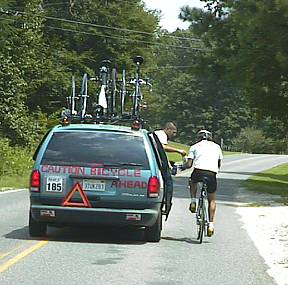 Crew passes drink to the rider from the pace car. Of course he can not sleep on the moving bicycle for time is limited for sleeping or eating. So he must eat on the bike. The crew passes high energy sports energy foods CLIF BAR, CLIF SHOT, or SAVAS. Also we created our special drinks and foods to give Sakurai what he likes best. Some foods are treats to encourage his mind.
Support crew also must keep working without sleep or rest as same as the racer. We had two teams of crews and switched them. The resting crew following the race by motorhome. Motorhome needs driver and navigator, too. We have 30 foot motorhome as control tower, rest room, office making this Web Site, and our mobile kitchen.
| | |
| --- | --- |
| The young lady above is an official volunteer working at Time Station 50. She reads a RAAM book while waiting for riders. Listing each rider that passes, and informs all the riders, teams and officials of important changes. | |
---

Send Mail to Webmaster
Photos, Graphic Design and Copies © Daisuke Tomiyasu