Colorado - 3rd day's evening to 4th day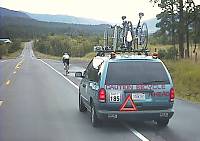 Sakurai reaches Colorado at evening. At Cortez, he looks so tired but we extended his distance until Pagosa Springs before taking a little (but longer at rest in the RAAM) rest. So he kept racing through midnight without stop. (Actually if somebody will not sleep forever, not makes stop for go to bath room, then who will be win. But of course impossible for more than 8 days. But 1.5 hours is big big sleeping time in RAAM as rider.)
At Pagosa Springs, he had an hour and half sleep in the motor home. Then he is back in the race. Why? Because from this point he must climb the highest mountain in this race. This is also one of the steepest changes in elevation in the shortest distance.
| | |
| --- | --- |
| The crew passes drink to Sakurai at top of the Wolf Creek Pass. | |
This is the most demanding part for the riders. In each of the three ascents, larger gaps develop between the riders in the first group. Sakurai emerges from this test in 5th place.
---

Send Mail to Webmaster
Photos, Graphic Design and Copies © Daisuke Tomiyasu